Baked Banana Doughnuts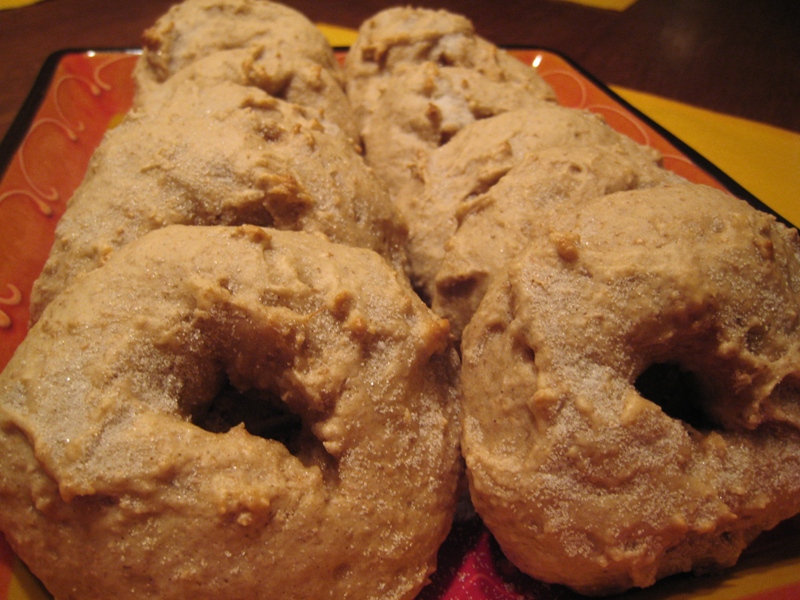 Ingredients:
2 ripe bananas, mashed
2 egg whites
1 Tbsp. vegetable oil
3/4 cup packed brown sugar
1.5 c. all-purpose flour
3/4 c. whole wheat flour
1 tsp. baking powder
1/2 tsp. baking soda
1/2 tsp. cinnamon or pumpkin pie spice
1 tbsp. white sugar
2 tbsp. chopped walnuts (optional)
Directions:
Preheat oven to 425F and grease baking sheet.
Beat bananas, egg whites, oil, and brown sugar in large bowl. Add flours, baking powder, baking soda, and cinnamon or pumpkin pie spice. Mix until well blended.
Let stand for 5 minutes to let dough rise.
Scoop out heaping tablespoons and place on baking sheet equally spread apart. Take a buttered knife and finger to form doughnut holes in the centre of each. Smoth edges of dough into a round doughnut as much as possible.
Place in oven for 7-8 mins. at 425F.
Source: Oh She Glows