Spiced Apple Pie Chips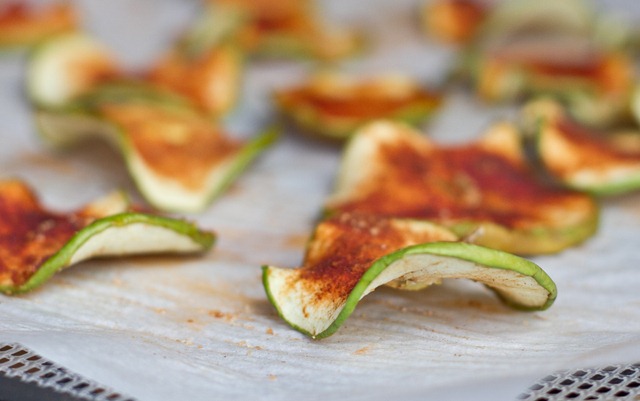 Ingredients:
3 Granny Smith apples
Lemon juice from 1/2 lemon
2 tbsp sugar
2 tsp cinnamon
Sprinkle of sea salt (optional)
Directions:
Line a baking sheet with parchment or line a dehydrator sheet with parchment. If using an oven and not a dehydrator, preheat oven to 150F. In a small bowl mix together the cinnamon and sugar.
Set aside. Slice granny smith apples into very thin slices approx 1/8-1/4 of an inch in width. Leave skin on. You may use a mandoline if you have one.
One apples are sliced place them into a medium sized bowl and squeeze fresh lemon juice over top. Line up the slices on the baking sheet, making sure they do not overlap. Grab the sugar mixture and sprinkle over top of each slice. Now take a tiny pinch of sea salt and sprinkle very lightly over top.
Place into the oven or dehydrator at 150F. Flip the apple slices every half hour to ensure even cooking. They are ready when they are curled up a bit at the sides and a bit crisp yet still chewy.
Source: Oh She Glows